Celebrating Black History Month
This February, the entire Palmetto Goodwill community is proud to celebrate Black History Month and the amazing contributions that Black American women and men have made throughout our local communities in South Carolina. Since our inception in 1979, Palmetto Goodwill has embraced the diversity of those we employ and serve. In fact, our leadership team is comprised of five women and three men – two of whom are Black Americans. Of these talented individuals, our Executive Director of Commercial Services, Reginald Hughes, has worked to fulfill Palmetto Goodwill's mission for more than 14 years.
As a United States Veteran, Hughes oversees the operations of our contract services – including 14 AbilityOne contracts with all four branches of the military. "In the past three years, we've built relationships with more than 5,000 veterans, provided training services to more than 700 senior workers, and gotten closer to bringing an adult charter high school to South Carolina. We're continuing to meet the needs of our diverse community" said Hughes speaking highly of Palmetto Goodwill's commitment to creating an inclusive work environment and supporting the diverse populations that benefit from Goodwill's programs and services.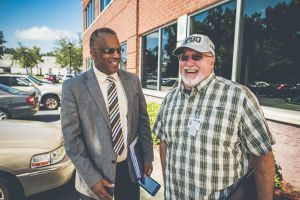 However, Hughes' dedication to supporting the community extends far beyond commercial services. Hughes serves as the leader of Palmetto Goodwill's Self-Advocacy Group which works to further legislation and better the lives of individuals with disabilities. In addition, Hughes was the driving force behind the creation of the Palmetto Goodwill Advocacy Champion program. The program, which strives to engage policymakers about the needs of Goodwill program participants, has resulted in nine State Senators and Representatives becoming Palmetto Goodwill champions. Recent champions include Rep. Joe Cunningham (D-SC) and Rep. Nancy Mace (R-SC).
In April 2019, Hughes was awarded the Goodwill Industries Advocacy Leader Award. "Passion, work ethic and drive like theirs is what makes Goodwill's impact in communities so strong" said Steve Preston, president and CEO at Goodwill Industries International as he spoke of Hughes and another award recipient at a ceremony in Washington D.C. Of course, Hughes is just one of the many talented individuals that make up Palmetto Goodwill's diverse workforce.
Currently, Palmetto Goodwill operates 31 stores, 12 Career Opportunity Centers, and 14 contracts that employ more than 1,400 people – many of whom are Black Americans. To read a previous Black History Month blog entry featuring some other members of our community click here.
Be sure to check us out on social media to learn about Hughes' most recent efforts and the outstanding achievements of Palmetto Goodwill's Commercial Services team.