Align your Passion and Purpose at Palmetto Goodwill!
Palmetto Goodwill allows you to transform your future while making an impact on your community. Our mission-changing lives by providing equitable access to education, training, and employment-starts at home with you and every member of our team. That's why we offer competitive wages, great benefits, multiple career paths, opportunities to grow, and a diverse, equitable, and inclusive workplace. All of this adds up to Amazing Customer Experiences for our team and community!
If this sounds great to you, and if you are ready to live our I-Care values- Integrity, Collaboration, Attitude, Respect, and Excellence-we encourage you to apply, and we can't wait to get to know you. Together we will ensure that every team member of our community-and our team-has the opportunity to thrive!
*To note: No position at Palmetto Goodwill pays less than minimum wage!
Together we can change lives!
In partnership with AbilityOne, Palmetto Goodwill Services manages numerous government contracts that provide employment opportunities for individuals with disabilities. Under the supervision of Goodwill, individuals with severe disabilities are able to enter the workforce and become independent, self-sufficient members of the community.
Equal Opportunity Employment
Palmetto Goodwill is an Equal Opportunity Employer that recruits, hires, trains and promotes qualified candidates without regard to race, religion, sex, sexual orientation, gender identity, age, national origin, ancestry, citizenship, disability or veteran status.
Equal Employment Opportunity is the Law
Palmetto Goodwill is one of the largest employers of people with disabilities in SC
Palmetto Goodwill is an equal opportunity employer committed to providing employment opportunities to people with disabilities and other barriers to employment. Our goal is to train, support and challenge individuals to overcome employment obstacles and gain greater independence through work. Individuals with disabilities seeking employment are encouraged to visit a Goodwill Career Opportunity Center.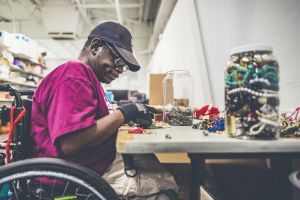 DDSN Day Services/Enclave
Palmetto Goodwill is proud to partner with DDSN and its Enclave program throughout our territory. Administered by the SC Department of Disabilities and Special Needs, an Enclave is a small group of people (usually 8 or less) with developmental disabilities, who work under the supervision of an employee of the provider agency, in a community business/industry that is not operated by a provider agency, and alongside non-disabled employees to produce goods or services controlled by the community business/industry .