Honoring Black History Month
Each February, Black History Month gives us an opportunity to recognize the tremendous impact African-Americans have had on all aspects of our society. In honor of this month we wanted to take a moment to highlight just a few of our current employees that help our organization thrive every day:
As VP of Commercial Services, Reginald Hughes, known to his colleagues and friends as Reggie, oversees the operations of Palmetto Goodwill's Contract Services. A U.S. Army veteran, he utilizes his organization and people skills to keep the contracts on military bases running in tip-top shape. His dedication to the mission extends far beyond his job duties as he leads Palmetto Goodwill's Self-Advocacy Group, working to further legislation and better the lives of people with disabilities.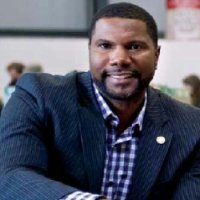 Jermaine Husser serves Palmetto Goodwill as VP of Mission Services, overseeing the programs, services, and mission outreach initiatives that impact our community each and every day. Also U.S. Army veteran, Jermaine played an integral role in founding Palmetto Warrior Connection and continues to serve as the program's executive director. He carries his passion for people with him in every aspect of his life and takes pride in making a difference in the lives of the people around him.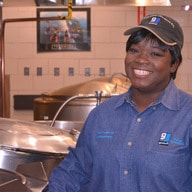 One of the contracts that Palmetto Goodwill fulfills is the food service operations at the Naval Weapons Station Galley. The dedicated staff prepares thousands of meals a day for the military members training and working at the base. Paula Jenkins runs a tight ship behind the scenes from food prep to cooking, serving and cleaning up. She has high expectations for her staff, many of whom have disabilities, but also serves as a mentor and friend. Paula chooses to see the abilities within in person, rather than their disabilities, helping each team member thrive.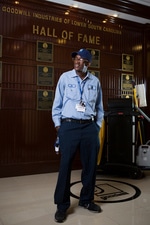 Michael Reid is fondly known as Mr. Mike to the administrative staff at Palmetto Goodwill's main office in North Charleston. As the building's full-time day porter, Mike describes his job as "taking care of the particulars." Overcoming alcohol addiction following his departure from the military, Mike is grateful to Goodwill for helping him turn his life around. Taking great pride in his work, he can be found most days cleaning the office areas or helping staff set up for events with a smile on his face.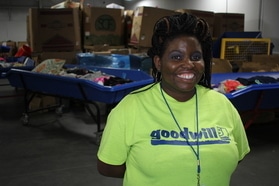 Fallyn Simmons is a member of the enclave staff that works tirelessly in our Rivers Ave. store in North Charleston. This work program provides employees with an opportunity to earn a paycheck while working in a supportive environment. Fallyn is proud to be part of a greater mission and brings joy to the store staff and customers on a daily basis.
Phyllis Clark started her career with Goodwill through the Senior Community Service Employment Program (SCSEP) working in an administrative position. SCSEP is an on-the-job training and employment program designed to help older Americans update their jobs skills, build work experience and confidence, and continue to have economic stability and well-being. After learning the necessary skills, she graduated from the program and was hired as a staffing specialist with Good People Staffing. She specialized in matching job seekers with local employers in need of staff.
To lift up every one of the African-American employees that make Palmetto Goodwill thrive would require far more space than we have here. This February and every day, we are grateful for the immense contributions each person contributes to our organization and the people and communities that we serve.