Palmetto Goodwill Paves Way for Kera Graham's Future
Confidence and determination are just two of the qualities that make up Kera Graham, a recent graduate of our CDL program. After a strenuous job search, with no prior luck, Kera stumbled upon an advertisement for Palmetto Goodwill and decided to give it a shot.
"A chance to go to school without a dime coming from my pocket was exactly what I needed because money was very scarce." said Kera, as she reveals her tenacity to become a commercial driver.
On July 14, 2020, Kera's dreams began to become a reality as she stepped foot into Goodwill's Career Opportunity Center in Myrtle Beach. With help from Tish Cromley, a Goodwill Career Navigator, Kera was able to obtain her commercial learners permit and begin an eight-week (148 hour) course at Miller-Motte Technical College.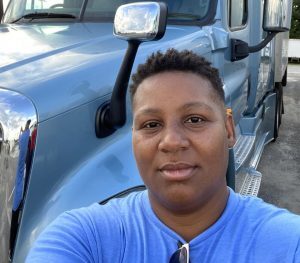 With excellence, Kera passed the CDL test. She then began working on a resume that would ultimately lead her to a new career as a driver for MPW Industrial services, a local company that treats water at nuclear power plants.
"I am now in a career making more money than I have ever made. My family can now breathe a little better and worry a lot less and I owe it all to the opportunity that Palmetto Goodwill provided to me. I encourage any and everyone to take advantage of this amazing opportunity. It will change your life for the better." said Kera,  as she expresses her gratitude to Palmetto Goodwill for recognizing her potential and transforming her future.
Palmetto Goodwill actively works on assisting individuals, like Kera, in finding careers that are tailored to their interests. Visit your nearest Career Opportunity Center for help navigating potential options for you or someone you know.