Three Steps Forward: Homeless to Future Supervisor
Just four years ago, Rex Bills lived in the woods on Rivers Avenue, feeling defeated and unsure of when his next meal would come. Winters were longer and colder sitting by a fire alone- making him slowly begin to give up hope. But sometimes, all you need is a hand up. And that's where we came in.

Call it a Coincidence or Call it Fate
At the time, Rex was not seeking help at all. Some of life's best miracles come unannounced – and this one just happened to start with two of our very own employees. At his lowest point, Rex was approached by our staff members asking if he needed help and if everything was alright. After showing them his veteran ID card, his journey with Palmetto Goodwill and Palmetto Warrior Connection began.
Our employees helped him secure transportation to our Career Opportunity Center where he learned about our Wounded Warriors program (our services for disabled veterans).  Working with One80 Place, the local homeless shelter, we then ensured that he would no longer have to sleep in a tent. Later, Bills took an advanced class for job training through Palmetto Goodwill and learned how to put together an updated resume and best approach employers about obtaining jobs. With a roof over his head, job training, and a bit of newfound confidence, he secured a job at Banks Construction, then worked as a mechanic, and "it just grew from that point on," he said.
Next thing you know, I'm doing program after program and job after job."
Rex then took an advanced Welding course through Palmetto Goodwill, becoming quite the jack of all trades. His life was on an uphill. Key word: was.

In the Blink of an Eye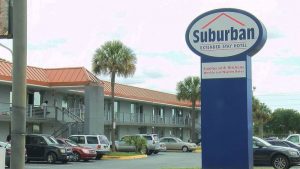 After staying at an Extended Stay hotel for three years with help from One80 Place and Palmetto Goodwill, as well as checks from Hud-Vash, the hotel without warning was sold to new investors who wanted to change its clientele.
New owners that would give him, and other hotel occupants- some also disabled veterans like Bills, 10 days to find a new place to live. Featured on the local news Channel 2 and Live 5 News, the Charleston community could not believe their misfortune. (Photo courtesy of Live 5 News)
Yet again, he found himself homeless, unsure where to turn. He was skilled in multiple different job areas, with the knowledge and know-how to succeed in employment. But he began to doubt himself. What we pride ourselves in, though, is that once we help you get back on your feet, we will never turn our backs. To us, our community is our family.
Three Steps Forward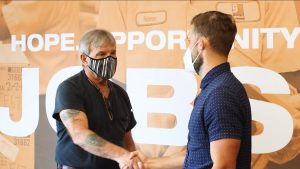 Once Joseph Queen of Palmetto Goodwill's own Palmetto Warrior Connection program heard about Rex Bills' situation with his past apartment, he knew we had to help him secure a new place to stay.
Almost immediately, he helped Rex Bills secure a deposit on a new apartment and enrolled him back in a CWT program (Compensated Work Therapy).
Joseph added, "I can state with unequivocal confidence that Mr. Bills is a hardworking, motivated, and driven beyond dispute." (Pictured: Rex Bills with Joseph Queen of Palmetto Warrior Connection)
After I spoke 1-on-1 with Bills, it's clear that he isn't going to give up on his dream career. He aspires to be an industrial supervisor in production again, because, like he said, "I'm really good at it. I know I am." His words are enough to make anyone crack a smile.
Goodwill wanted me to… they inspired me. Put it that way. They inspired me to push me to get back on my feet. And it wasn't them saying, here, I'll give you this if you do that – that's not the way it was. They said we're going to give you a job, we're going to help you, we're going to train you, and we're going to show you that you are somebody. So, they reached out and guided me, and they didn't let go. Palmetto Goodwill just kept me moving forward, one step in front of the other, instead of one step forward, two steps backwards. They were making sure that I took three steps forward and kept on walking and climbing that ladder. I'm not at the top yet, but I'm getting there."
Our Mission, Full Circle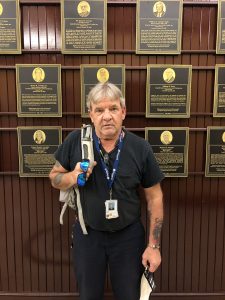 The day we interviewed him, Rex Bills decided to apply for more programs through Palmetto Goodwill. Yet again, all he needed was a hand up- and the rest is history.
Currently, Rex Bills is working as a Maintenance Technician for the department of Veterans Affairs (VA) through the Compensated Work Therapy Program (CWT).  Moving forward, he has been approved for Palmetto Goodwill's HVAC program and will pursue full-time employment with the VA following completion of both programs.
When talking with Joseph Queen, he added, "As his assigned Career Navigator, I have no doubt this venture into our professional credentialing programs will likewise find success, should he uphold the same level of professionalism that has been displayed to this point."
His story is a story still being written. Brilliant and full of empathy for others, Bills puts a face to our mission, and what it means to us. He has been through so much but is not stopping any time soon.
One thing that we forget, is no matter how old you are, there's another trick. They say you can't teach an old dog new tricks. But yes, you can. Most definitely."
Rex Bills asked to thank Palmetto Goodwill, Wounded Warriors, and The Charleston Hud-Vash Program. He also wished to specifically thank John Wiggins, Joseph Queen, Andrew Sabb, and Adriean Brown.