One Veteran's American Dream
The American Dream can be defined as the belief that anyone, regardless of where they were born or what class they were born into, can attain their own version of success in a society in which upward mobility is possible for everyone. For Tony Green, a retired U.S. Navy veteran and safety specialist at Palmetto Goodwill, his American Dream has changed over the years.
After leaving the military I got a job as a network tech and life was great. I had the house, the wife and kids – and my dream. Then my dream started to fade away and what was once happiness turned into a nightmare that I could not control."
Life, Unexpected
After three years in the Navy, Tony checked off every box he believed he needed to be successful and happy. Or so he thought.
Due to a medical condition, he found himself depressed, unsure of where to turn, and with no desire to go to work. He eventually lost his job, his family, his home, and his sense of normalcy. He was lost. The last place he thought he would ever end up was a homeless shelter, but he remembers the smell, and the rampant alcohol and drug use like it was yesterday.
At the end of the day, I was grateful for the mat and small space on the floor as I could have been in a worse place or even outside," Tony said.
After securing a part-time job, he would return to the cold, hard, shelter floor each night, constantly reminded of his situation. Eventually, he got a call.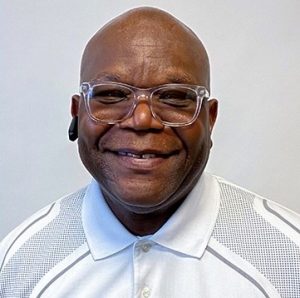 A bed was open in the shelter. For some, that is a guaranteed, no-questions-asked, type of luxury. For Tony, it was a small victory. His American Dream, though it looked a bit different than what he thought, began that day.
He began work as a food service worker at one of Palmetto Goodwill's contract sites, and, after seven months, he was promoted to a cook. Eight months later, he was promoted again to a supervisor. At this point in his life, he was faced with a decision.

An Achiever and Advocate for Others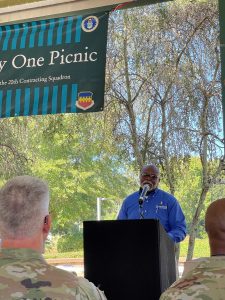 "Do I remain on disability checks once a month or do I follow my dream?" he wondered. "I chose the dream." Never looking back, Tony was promoted again as an assistant project manager at a different site.
He married again and bought a house. Working hard each day, he accepted an offer as a project manager and now works as a safety specialist. The job titles aren't just titles ‑ they are milestones of his American Dream.
He now advocates for individuals with disabilities on Capitol Hill and has won several advocacy-related awards. Yet even this story of recognition is not why Tony shares his story. Instead, he writes and speaks about it "because I believe in giving back what was given to me to succeed." (Pictured: Tony delivering a speech at the 2021 Ability One Picnic at Shaw Air Force Base.)
Veterans protect our rights and freedoms, and their service doesn't just end when they retire a uniform. Like Tony, many struggle to adapt to regular life, become homeless, or get lost in the system once they get back from their service. It's important this upcoming Veteran's Day and every day that we support and uplift individuals themselves, as well as the organizations who dedicate their time to bettering the lives of our nation's best.
Thank you, Tony, for sharing your story. As he said, "respect and hard work got me through my tough, dark days and it will work for you if you just believe in yourself."
Information on Palmetto Goodwill's very own Palmetto Warrior Connection