Open Roads and New Beginnings
If you could describe yourself in one word, what would it be?
"Determined," Whitney Davis said. "It would be determined."
This year marked 27 years since the last time Whitney was in school. His description is fitting. Even though he didn't finish high school, he never let that stop him from achieving whatever he set out to do.
Since 2013, Whitney has worked part-time positions – training individuals at the gym, landscaping, and other odd jobs. Wanting a change, he came to Palmetto Goodwill in July of 2021. He may have not known it yet, but it was the start of something huge.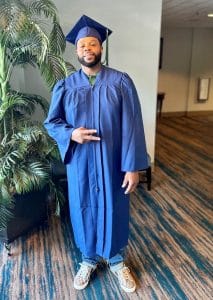 When he met Beverly Owens, E & T (Education & Training) Coordinator at DSS, she referred him to Palmetto Goodwill for the Snap2Work Program. Once he met his career navigator, Marydhel Reed, she sat him down and asked him questions about what career credentialing he was interested in. Marydhel asked what he wanted his future to look like. "I always had an interest in trucking, and the industry was just booming." Set on earning his CDL, for months, he dove head-first into learning more about the Commercial Truck Driving industry.
It was never easy, but when his spark of determination started to run out, she was there to lift his spirits. "Ms. Reed put a lot of time in, helped me out, and made me really want to do this." After being approved for funding through Palmetto Goodwill, Whitney went to Miller-Motte Conway for his CDL course in January 2022. He received his license in February and walked at Palmetto Goodwill's graduation in March.
For him, this was his first graduation. While there, Whitney recalled a sense of pride amongst all the graduates and career navigators.
I saw a lot of the students and career navigators just so proud of each other. I saw individuals get their high school diplomas, and I wanted to do something like that as well. I want to keep learning."
Whitney began to apply for jobs and accepted an offer as a full-time driver with a South Carolina beer distributor. "It was tough applying for positions – but it was fair. I understand starting at the bottom. I'm getting experience but I will work my way up."
He mentioned that this process made him humble, disciplined, and more excited for the future. He wants to receive his diploma, and possibly take courses to become certified in another one of his passions – personal training. Whitney knows that one day, he will have his own truck and be his own boss.
He is grateful to Beverly and Marydhel for their unconditional support along the way.
Thank you, Whitney, for being such a light. We know you will inspire others to reach their full potential!