Autism Awareness Spotlight: Jeremy Shawn Dakota Kelly
 What makes you happy? 
"It makes me happy to do a great job at work and to see my friends and coworkers happy."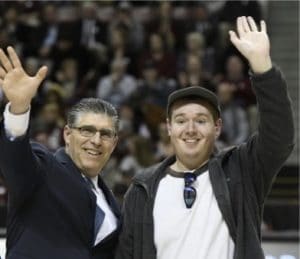 Whether it's working the serving line, encouraging his teammates, or cleaning up to get ready for the next shift, Jeremy "Cody" Kelly at the Site 392 can always be seen with a smile. 
Cody has been with Palmetto Goodwill for the past eight years. He enjoys spending his paychecks on his favorite activities such as going to the movies, GameStop, or museums.  He has learned a lot over the years and continues to strive to do his best. 
"My superpower is seeing the good in everything, doing my part, and helping." 
Cody is on the autism spectrum, but he refuses to let barriers to work stop him.  
He always goes above and beyond to make sure others are supported and happy. He helps change the world simply by seeing the good in others. 
Here at Palmetto Goodwill, we believe every person should have an opportunity to achieve his/her fullest potential. Creating a sense of belonging fuels our mission and empowers us to deliver Amazing Customer Experiences to those we serve, our partners, and one another. 
As Autism Awareness Month comes to a close, what better way to share our ideals than by highlighting individuals who live out our mission every day. 
Our goal at Palmetto Goodwill is to train, support, and challenge individuals, like Cody, to overcome employment obstacles and gain greater independence through work. Click here to learn more about our 2025 impact plan to see how we are giving greater focus to our efforts of offering sustainable employment opportunities and related support services to those in need.