Furthering a Career in Fitness
The "Ultimate Job"
At age 26, Chris Markham left Dublin, Ireland, for America. As a personal fitness trainer, he always thought that his ultimate job would be a career that allowed him to have more time for sports or to have a job that paid to participate in sports (professionally or as a trainer). He decided he would come to the U.S. where he could work to fund his passions so he applied for and received a green card.
Making a lot of money was never his goal – happiness was more important.
"I went for a job in an apartment community. I was the maintenance guy there while teaching step aerobics classes once a week or so. I was also the pool lifeguard – I did it all." He started to feel a little lost along the way, but it never stopped him from dreaming big. He then worked for a cable company, a rental car company, did landscaping and worked at a resort in Colorado where he could spend his free time snowboarding.
Everything Chris did, he did to fund the things that made him feel alive. After coming to Charleston a few years back, he decided to return to personal training.
When you're older, it's like you go back to what you did when you were a kid. You go back to a part of you that you lost along the way."
But, because Chris had a long history of working odd jobs, and his last full-time job was as a trainer in the '90s, it was difficult to secure employment.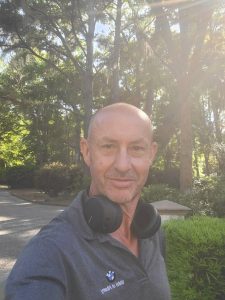 Settling Down and Leveling Up
After meeting Joe Queen of Palmetto Goodwill, they discussed career aspirations and goals, and Joe helped him apply for various local positions. At first, Chris wasn't getting calls back. He updated his resume and completed his NASM (National Academy of Sports and Medicine) Preparation Course through Palmetto Goodwill's partnership with ed2go. The course was no easy feat but after 6 months and 80 cumulative course hours, he sat for and passed his National Academy of Sports Medicine examination. With his certification, he now had the skills he needed to be a highly accredited personal trainer again.
After several job interviews, he started work at a local gym, but something was off. He began losing sleep and having severe anxiety. "Other [trainers] had bachelor's degrees. I was trying to be too good at what I did but didn't feel like I knew enough." Making the tough decision to leave, Chris decided to take a break from training in gyms. But Joe didn't let him give up on his passions.
"He [Joe] definitely kept me on track. Once you went down this path, he was going to talk you back into it if you had any doubts about yourself. He made sure I followed through with everything – which is so easy to back out of, just like a gym membership."
Chris began work at Gregory Management Company as an estate manager and has been happily employed there since. Even though his career now might look a little different than what he thought, that doesn't mean he gave up on his love for fitness. As a side hustle, he trains fellow employees there and gives them one-on-one coaching on how to be the healthiest version of themselves – physically and mentally.
Chris completely embodies our mission – to help people reach their full potential. With a dream, a little hard work, and a hand up, he is now right where he's always wanted to be.
—
As a personal trainer, Chris created his own "10 Components to Health," helpful tips people might use to reach their wellness goals – beyond just dieting and working out (see below).
DISCLAIMER: As always, check with your healthcare provider before following any diet or exercise regimens.
10 Components to Health Tips from Chris Markham:
Active Lifestyle

If you sit often at work, get up and walk around or go outside for phone calls! Move your body every half hour.

Aerobic training

"What's good for your heart is good for your brain!"
1 to 2 times a week, start with walking. As you progress, add 1-minute slow walking and 1-minute fast walking intervals into your routine.

Anaerobic training

Make sure to work your glutes to make up from sitting in a car, on the couch, or in the office!

Fresh Food

Try to eat only fresh food. The best way to make sure no chemicals, pesticides, or rodenticides are in your food is to grow your own!
Best food supplements: spirulina, chlorella, cocoa powder, Ceylon cinnamon, nutmeg, turmeric powder, hemp seeds, sesame seeds, chia seeds, sunflower seeds, walnuts, blueberries, raspberries, strawberries, figs, and kiwi.
Cook with stainless steel pans or a cast iron pot!

Sleep Quality

Try to get 8 hours of quality sleep.
Stop eating at least 3 hours before you go to bed.

Meditation

Meditation = attention, focus, and awareness!
For 10 minutes a day, sit comfortably with eyes closed and ideally ears covered to shut down all sensors. The brain will have nothing to be distracted from!

Yoga

You can do yoga in front of the TV or in a studio. It doesn't matter as long as you're moving your body!

Cold Shower Training

Training your body to take cold showers is great for stress relief. To ease your way into cold showers, try lowering the temperature for a minute at a time.

Breathing Training

Introducing controlled breathing techniques into your life can help you deal with stressful situations at work, at home, and everything in between.

Self-Managerial Detox

Take control of your life!
"Are you the supervisor of your life? Are you a high-quality manager of yourself? Are you telling yourself to back out and you're keeping yourself? Are you thinking of yourself as the third person? Let yourself off the hook."