From Part-Time Attendant to District Manager: David O'Donnell's Inspiring Journey
Meet David O'Donnell, a true go-getter from Ottawa, Illinois, whose life changed when he discovered his purpose at Palmetto Goodwill. Starting as a part-time donation attendant in August 2015, David's passion for his work was undeniable, and he quickly rose to become a Production Supervisor, showcasing his natural leadership skills.
In May 2017, David took on the challenge of managing Palmetto Goodwill's largest retail store in Surfside Beach. His dedication led to unprecedented sales milestones and a profound impact on the store and its mission. But David's aspirations didn't end there; he set his sights on becoming a District Manager.
Despite facing rejection, David never gave up. He took the initiative, sacrificing his days off to gain experience and seek guidance from experienced leaders. His hard work paid off, and in June 2020, he finally achieved his goal and became a District Manager in Charleston.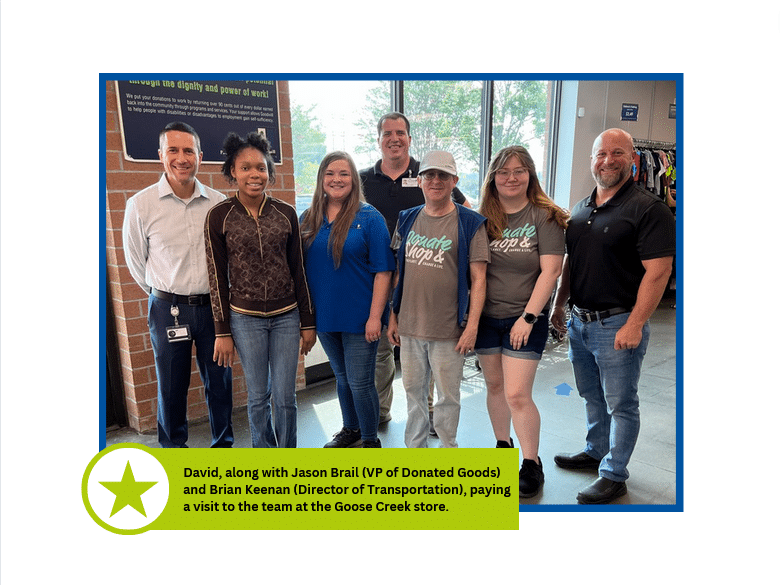 Reflecting on his journey, David attributes his transformation to Palmetto Goodwill. The organization provided him with a supportive environment, believing supervisors, and a mission aligned with his values. Throughout his eight-year tenure, David's positive influence on the community and the growth of employees he supported showcase the true spirit of Palmetto Goodwill.
David's journey teaches us that with determination, hard work, and the right opportunities, we can make a difference in our lives and the lives of others. Palmetto Goodwill's impact on David's life serves as an inspiring reminder of the transformative power of purpose and passion. Together, we can create a positive impact on our communities and make our dreams a reality.