Overcoming Challenges and Embracing Opportunities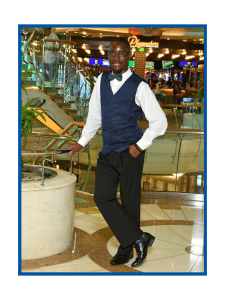 In a world where challenges can seem insurmountable, individuals like Adam Dezelle Jr. (AJ) defy the odds and inspire us with their unwavering determination and resilience. AJ's story is a testament to the power of hard work, perseverance, and the belief that no obstacle is too great to overcome. Despite being diagnosed with attention deficit disorder and Asperger's Syndrome at the age of four, AJ's journey is a shining example of how one can rise above their circumstances and carve a path to success.
From an early age, AJ demonstrated remarkable tenacity and commitment to his education. Throughout his twelve-year journey from Kindergarten to High School, he achieved a remarkable feat that only a few can claim: perfect attendance! Regardless of the challenges that came his way, AJ never missed a single day of school. His unwavering commitment to learning set the stage for a lifetime of accomplishments.
Upon graduating from Goose Creek High School, AJ wasted no time seeking opportunities for growth and self-improvement, ultimately finding work with Palmetto Goodwill. In January 2019, AJ embarked on a career path that would provide him with employment and offer a platform to showcase his talents.
AJ's role as a Food Service Worker at the Naval Weapons Station with Palmetto Goodwill has allowed him to thrive in a supportive and inclusive work environment. With a multitude of responsibilities, including meal preparation, serving, and maintenance, AJ has become a quiet leader, exemplifying Palmetto Goodwill's I-CARE values. AJ has proven that his abilities far outweigh any perceived limitations through his unwavering commitment to getting the job done.
AJ's steadfast dedication to punctuality is an attribute that sets him apart. Understanding the importance of showing up and being on time, he ensures that his transportation arrangements align with his work schedule. His devotion to timeliness reflects his commitment to his job and his desire to be a reliable member of his team.
AJ's journey with Palmetto Goodwill not only provides him with meaningful employment but also empowers him to be a productive citizen. Through his dedication and perseverance, he makes a positive impact in his community. AJ actively participates in the Palmetto Goodwill Advocacy Program, using his voice to share his story on Capitol Hill and volunteering at events that uplift and inspire others.
Adam Dezelle Jr.'s inspirational journey serves as a reminder that with hard work, determination, and the right support, one can overcome any obstacle in their path. AJ's story is a testament to the power of resilience and the importance of embracing opportunities, regardless of the challenges one may face. As we reflect on his accomplishments, let AJ's story inspire us to believe in our own abilities and strive for greatness in the face of adversity.