Five DIY Holiday Gifts You Still Have Time to Pull Off
With less than two weeks to go until Christmas, we're guessing you might still have a few people to cross of your list. If you're looking for gifts that will impress without breaking the bank, you may not need to look further than your local Goodwill. Along with some basic craft supplies (mostly spray paint if we're being honest) and creativity, your list will be finished in no time. Here are five ideas that anyone can pull off, even with minimal crafting ability:
1) Kitchen Tablet Holder – For the person on your list always whipping up a new recipe, this simple and stylish tablet holder will keep every recipe within easy reach.
Goodwill items: Wooden serving tray or cutting board
Craft store items: Chalk or spray paint, scrap wood (this tutorial uses a building block and Scrabble holder but you can likely find similar shaped items at a craft or project store), wood glue, sand paper
Directions: Start by gluing a piece of wood on the front that will hold the tablet in place and a rectangle- or triangle-shaped piece on the back to keep the board upright on a kitchen counter. Once dry, you'll paint the entire piece with chalk or spray paint in whatever color you've chosen. Both types of paint are forgiving and will allow you to cover up any imperfections or even pre-existing designs on your thrifted wooden tray. Once you're project is dry, you can use sand paper to give it a distressed look on the edges.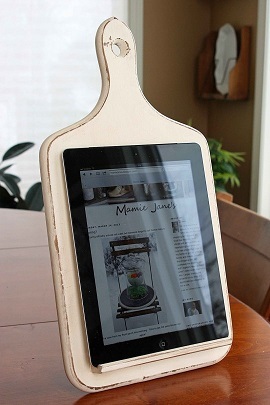 Image via Handimania 
2) Jewelry Tray – Your friend that's always changing up her accessories will appreciate a pretty organizer to store her treasures.
Goodwill items: Cake stand
Craft store items: Spray paint
Directions: For this project, you can either make one large strand or create several smaller pieces that work together and will look great displayed on a dresser or table. Take your time to find a good quality stand that feels solid. Metal and porcelain will work equally well. Choose a spray paint color that will give you the look you're going for. A pewter color for your vintage loving friend, bright teal or pink for your tween niece or sparkly gold or black for your glam aunt. All you need to do is spray and let dry. If you want to use two contrasting colors, just tape off the areas close to where you're spraying to avoid splatter.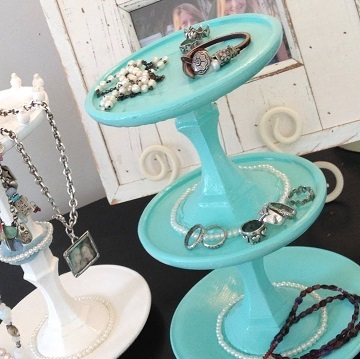 Image via Michelle Barratta 
3) Dressed-Up Flower Vase – Don't show up empty handed to any holiday gathering this season. Filled with fresh blooms, this DIY gift will serve as festive décor and a vase to be used year round.
Goodwill items: Vases in any sizes you like. Glass or white are elegant but don't be afraid to play around with fun colors and styles.
Craft store items: Spray paint, painter's tape
Directions: Once you've chosen your vase, use blue painter's tape to section of a design. The easiest and ultimately sleek design will be to paint the bottom, effectively hiding the flower stems to come. Get creative for a bigger impact – geometric designs, stripes, etc. Once you're satisfied with your creation, spray away! Once dry, peel off the tape and voila!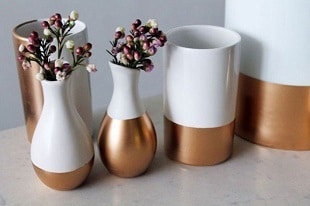 Image via HGTV Canada
4) Shabby Chic Succulent Holders – Your green-thumbed friend will appreciate these adorable new additions to her collection.
Goodwill items: Containers such as tea cups, old trophies or small pots.
Craft store items: Spray paint (optional)
Directions: There are two directions you can take with this DIY project. Spend your time thrifting unique containers that stand as art on their own or use your creativity to create vessels that shine. We like spraying different shapes and sizes in one color to create a unique set.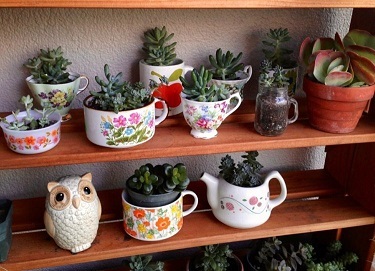 Image via The Odyssey Online
5) Framed Maps – For the person in your life who always seems to be jetting off to new destinations, framed map décor will allow them to continue their wanderlust while at home.
Goodwill items: Collection of frames
Craft store items: Spray paint
Directions: Again, choose a color of spray paint for these depending on the look you're going for. We like deep blues and greens that will complement the colors in the maps or go for gold-toned hues for a more regal look. Vintage maps are awesome if you can score them or pick them up online.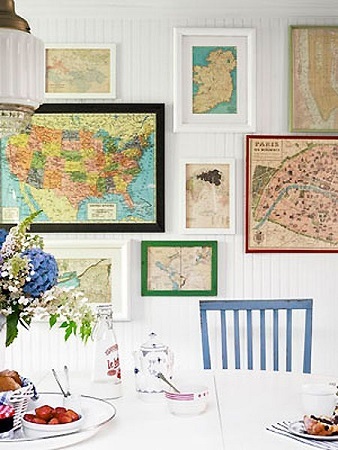 Image via Pinterest
These DIY gifts are a great way to lower your carbon footprint, save money and support your local community. More than 90 cents of every dollar spent in our stores supports our mission of helping people achieve their full potential through the dignity and power of work. Happy thirfting and crafting!