PWC has your back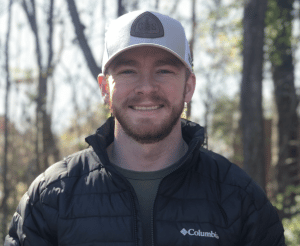 Christian Fowler is a good example of someone who quickly opened the door when opportunity knocked.
Thanks to good advice he received while attending the College of Charleston, Fowler was able to connect with Palmetto Goodwill's, Palmetto Warrior Connection and earn computer certifications that will help him advance in his career.
Fowler joined the U.S. Marine Corps in 2014, at age 22. His duties involved the planning, observation, conduct, and control of artillery and naval gunfire. He had two deployments and by 2018, he was going to reenlist, but could not get an assignment on the east coast.
"On my first deployment my mother passed away, my stepfather passed on my second deployment. I wanted to stay on the east coast and go to certain schools." So, Fowler got out of the Marines and moved around Georgia, Florida ending up in South Carolina. He started attending the College of Charleston thanks to the GI Bill and is now in his senior year of studying information technology and will graduate next Spring.
Fowler was glad to have served in the military because it helped shape who he is. After graduating from high school in Jessup, Ga., in 2011, Fowler secured a job at an auto parts store. He started partying too hard, however, which landed him in jail for 19 hours. And that was plenty of time for him to realize that he had to change.
"If Marine Corps me had met teenaged me, he would not have liked him. Getting in trouble was an eye-opening moment for me. I lost my job, had to go to court, and disappointed my family," he explained. "I wasn't who I am now. I wasn't mission focused. Now, school is number one."
Fowler is all about his education now. As he progressed through his studies, he started looking into IT certifications so he could get as many qualifications as possible. He sought advice from the College of Charleston veterans' resource center and his advisor immediately referred him to Palmetto Warrior Connection at Palmetto Goodwill.
He connected with Joe Queen, PWC's lead career navigator. Queen said Fowler was a self-sustaining client, in the sense that he is currently using his Post 9/11 GI Bill for undergraduate studies at the College of Charleston, and already knows what industry he would like to work.
"The only piece of the puzzle he was missing was the professional certification, which is where we provided value," Queen said. "The mission statement of PWC is actually 'to cultivate a community of self-sustaining warriors' which fits his profile perfectly."
Before that, Fowler had no idea that Palmetto Goodwill offered training.
"I thought it was more donation and social support," he said. "Palmetto Goodwill had a seamless process. Everyone I spoke to was professional and helpful. This has been a very helpful, needed thing."
Thankfully, Palmetto Goodwill was able to provide him with a suite of three courses in network security saving what thousands of dollars that would have come out of his GI Bill.
"I probably will go for my masters now and if it wasn't for the GI bill or Palmetto Goodwill, I wouldn't have gotten it done. I wouldn't have had the time or energy to have a job and go to school. This is a huge advantage for me and makes me feel a lot more comfortable."
He looks forward to his future, certain of employment using his hard-won knowledge, and knowing Palmetto Goodwill's Palmetto Warrior Connection had his back.