Meet George: A Palmetto Goodwill Star Making a Difference!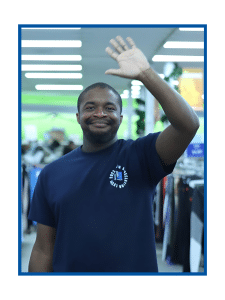 If you've had the pleasure of visiting our James Island Palmetto Goodwill store, chances are you've encountered, or will soon have the opportunity to meet, George. He is one of our most highly-praised team members, and he truly personifies the dedication and warmth that defines the spirit of Palmetto Goodwill
George holds the role of Cashier/Retail Team Member and has been an integral part of our Palmetto Goodwill family for an impressive 9 years. He initially started his journey with us at the John's Island store and has been making a positive impact at the James Island location for the past 5 years.
Throughout his time with Palmetto Goodwill, George has accumulated a wealth of knowledge and experience beyond his job description. His passion for his work shines through every day, and his ability to connect with people is a skill that sets him apart.
George's favorite aspect of his job is the opportunity to meet new people. Whether it's a friendly conversation at the checkout or helping a customer find the perfect item, George thrives on making meaningful connections with those who walk through our doors.

What motivates George to provide the best possible customer service is a belief deeply rooted in the power of kindness. He says, "One small act of kindness can change a person's day. You never know what people are going through!" This sentiment reflects the heart of Palmetto Goodwill's vision, emphasizing the importance of fostering a supportive and compassionate community.
It's team members like George Freeman who truly make Palmetto Goodwill more than just a retail store. They turn it into a place where people come not only for great deals but also for genuine warmth and friendly service that can brighten someone's day.