Grace's Inspiring Path at Palmetto Goodwill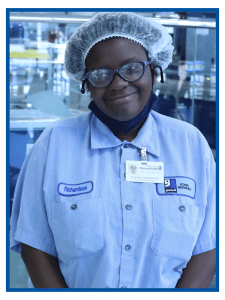 Elizabeth Grace, affectionately known as Grace, embodies perseverance and triumph at Palmetto Goodwill. Her tenure on the food service team at the Naval Weapons Station Galley stands as a testament to her incredible accomplishments.
Grace's journey began in 2018, following her completion of training at the South Carolina Vocational Rehabilitation Center. With her sights set on success, Grace secured a position as a Food Service Worker at the Naval Weapons Station Galley through Palmetto Goodwill's AbilityOne Program. Initially, adapting to the Galley's intricate operations posed challenges. Undeterred, Grace sought guidance from both Palmetto Goodwill's supervisors and her colleagues, drawing upon their support and combining it with her determination to overcome obstacles and master her role.
With dedication and persistence, Grace transformed her challenges into steppingstones, emerging as a shining example of excellence. Proudly considering herself the most outstanding food service worker at the Naval Weapons Station Galley, her journey from uncertainty to confidence within her role highlights her resilience and the supportive environment fostered by Palmetto Goodwill.
Beyond her professional achievements, Grace's passion for music—whether playing the tambourine or singing—reflects her vibrant spirit. Her active involvement at her church, starting from the youth choir and later joining the hospitality committee, showcases Grace's dedication to service and warmth towards others.
Family holds a significant place in Grace's life as she lives with her parents and younger brother. Grace's parents derive immense pride and joy from observing her journey with Palmetto Goodwill. Witnessing their daughter blossom into a dedicated and accomplished individual brings them immeasurable happiness Grace's unique gestures and appreciation for simple pleasures, like her favorite meals and online shopping, add distinctive layers to her colorful personality.
Grace's story serves as a beacon of hope and inspiration, illustrating the power of perseverance and the invaluable support of both team members and family. Her success encompasses more than professional accomplishments; it includes embracing life's melodies, cherishing family bonds, and finding joy in life's simplest moments.
Her journey resonates with a message that with perseverance, dedication, and a supportive community, triumph is not only achievable but inevitable. Grace's enduring inspiration reminds us that challenges are merely steppingstones on the path to success, and with steadfast determination, every hurdle can be conquered.