Embracing Diversity and Overcoming Challenges: Cayla's Inspiring Journey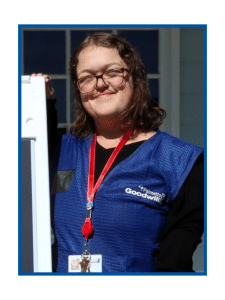 October marks National Disability Employment Awareness Month, a time dedicated to celebrating the accomplishments of individuals who confront unique challenges while pursuing their professional aspirations. In the spirit of this significant month, allow us to introduce you to Cayla Norton, a Palmetto Goodwill team member who has demonstrated extraordinary determination and perseverance throughout her journey.
Hailing from Green Bay, Wisconsin, Cayla moved to the Grand Strand over two decades ago. She lives with achondroplasia dwarfism, the most common form of dwarfism, which was a surprise, given that it had never appeared in her family history. Despite the unexpected nature of this condition, Cayla has wholeheartedly embraced it. When starting her own family, one of her concerns was the likelihood of having children with dwarfism. In fact, Cayla has a 50/50 chance of having a child with dwarfism, and she does. Her daughter, Willow, is also a little person.
Cayla's story with Palmetto Goodwill began when she stumbled upon a job listing on Indeed. She was initially hired at another job that offered higher pay, but her boyfriend encouraged her to explore the opportunity at Goodwill. He recognized that her heart belonged there, where she could make a positive impact on the community. Cayla has fully embraced this role with enthusiasm and found a profound sense of purpose and fulfillment in her work.
Cayla's journey at Palmetto Goodwill started one year ago as a part-time cashier. Her dedication and hard work quickly led to her promotion as a part-time Lead, store Lead, and recently, Assistant Manager! Her rapid rise within the organization is a testament to her commitment and opportunities for growth provided by Palmetto Goodwill.
Through her employment with Palmetto Goodwill, Cayla has found not only stability and financial security but also access to essential benefits like dental and eye care coverage, life insurance, and a 401K. However, what's equally valuable to her is the work culture and the opportunity to make a difference in people's lives. Cayla cherishes coming to work each day, knowing that she contributes to positively impacting people's lives.
Cayla's passion extends beyond her job. Having a bachelor's degree in art, she revels in drawing, painting, and sculpting during her free time. Although she used to work as a caricature artist on the boulevard, she now considers it more of a hobby due to the seasonal nature of the job. Cayla's artistic talents brilliantly showcase her creativity and underscore her unwavering determination to pursue her passions.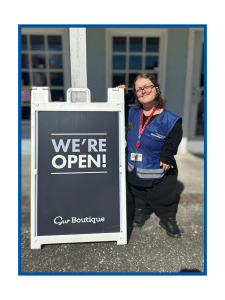 Cayla faces challenges not only in her own life but also in raising her daughter, Willow. Witnessing Willow's struggles mirrors her own experiences, but Cayla uses her life lessons to make her daughter's journey easier. This nurturing spirit is a testament to Cayla's inner strength.
Her rise from a part-time cashier to her current position as Assistant Manager is an incredible achievement and a reflection of her dedication. Palmetto Goodwill's vision to provide individuals with the opportunity to thrive finds its embodiment in Cayla's story.
Cayla's success story is not only an inspiration but also highlights the significance of inclusivity in the workplace. Palmetto Goodwill has been accommodating, making necessary adjustments such as lowering items she uses daily and providing step stools when needed.
Cayla's journey at Palmetto Goodwill is a testament to the power of resilience, fortitude, and support of an inclusive workplace. Cayla serves as a poignant reminder that every individual, regardless of their background or abilities, can achieve their dreams and make a meaningful impact in their community. This National Disability Employment Awareness Month let's celebrate the incredible journey of Cayla Norton and the countless others who overcome challenges and inspire us all.