Earth Day 2021: Recycle Your Closet
Picture this: It is a warm spring day. The sun beams brightly on your skin. You are standing in your driveway, loading the car with shovels and sunscreen. The beach is calling your name. The smell of fresh cut grass and greenery fills the air. The change of season excites, electrifies, and encourages you to appreciate Mother Earth and all her glory.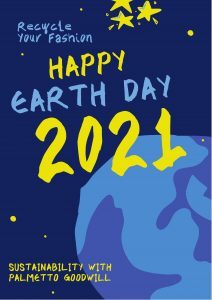 As the world begins to adapt to the new normal-learning to appreciate the masks and the mayhem-it is important to find beauty in the chaos.
This Earth Day, Palmetto Goodwill is encouraging an admiration of the little things. And we encourage YOU to embrace the environment.
As we embark on this journey of consciousness in order to protect our earth and its inhabitants, we are sharing a unique way to save the world and your wardrobe! Recycling your closet is a way to get creative with your clothes while preserving the planet. If your closet is getting too full consider donating your clothes to a local Goodwill. By donating your clothes, this gives individuals an opportunity to second-hand shop. This is both sustainable and savvy.
Palmetto Goodwill has recently launched an ecommerce website which allows individuals to browse fashion and other items right from the comfort of their own home– remaining Covid conscious and convenient. This addition places a strong emphasis on sustainable fashion, as clothes and designer handbags are being reused and repurposed.
Check out this blog post for more ideas on what to look for/send off as you begin to set sail into the sea of sustainable fashion.