Costumes for Couples – Beetlejuice & Lydia
Blog by Shelby Sessler
This week's focus was costumes that couples can wear, so I went with Beetlejuice and Lydia from the Tim Burton Film "Beetlejuice."
---
This week's focus was costumes that couples can wear, so went with Beetlejuice and Lydia from the Tim Burton Film "Beetlejuice."
Lydia was pretty simple.  She has a classic gothic aesthetic, so anything black with a little bit of character would work. I chose a long dress with long sleeves and a higher neckline and added a pair of black combat boots.
Most Lydia costumes I have seen have added a black sun hat to the costume, which is part of one of her more recognizable looks. You can always accessorize with black jewelry if you choose to.  To finish her look I added a wig and made a copy of the "Handbook for the Recently Deceased" from a book found at Goodwill.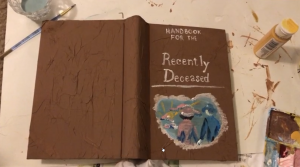 I made a mixture of glue and water, painted the mixture on the book cover, lay a piece of tissue paper on top, and added another layer of the glue water on top. Once dry, I painted the book the color I wanted and added the designs on top using acrylic paint.  You can add a glossy top coat as well, but I left mine matte.
For Beetlejuice, I found a black suit jacket, black pants, dress shoes, a tie, and a white shirt.  I lay painter's tape on the jacket and pants in the directions I wanted the stripes to go.  I used a fabric spray paint to create the stripes, but a regular spray paint can be used as well, just make sure to seal the paint with cold water when finished (otherwise it will stay a little bit sticky).
The more layers you add to the paint, the more vibrant the white will be against the black.  Once finished, remove the painters tape and you have your suit!
I couldn't find a black tie, so I found a white tie and spray painted it black.  To finish off the look we sprayed his hair green with hair spray paint and added ghoulish makeup to his ensemble!
---
Once the costumes were assembled we had a photo shoot.  The costumes were very comfortable and very effectively conveyed the characters. I was really happy with the end results for the costumes and can't wait to have an excuse to wear them again!