All Signs Point to Inclusion
Three percent of all Goodwill employees are part of the AbilityOne Program through SourceAmerica, which is the largest source of employment for people who are blind or have other disabilities – including being deaf.
In 2017, Reginald Hughes, Palmetto Goodwill Services executive director and Jason Hurdich, M.Ed., CDI (Certified Deaf Interpreter) and ASL lecturer at Clemson University, had an idea. What began as "Hey, what about offering ASL courses?" became a program that would go on to impact 22 states, the U.S. Virgin Islands, Guam, and more – and we only want to keep growing.
Knowing even the most basic form of ASL creates a friendlier environment for a segment of the population that often feels left behind."


-Reginald Hughes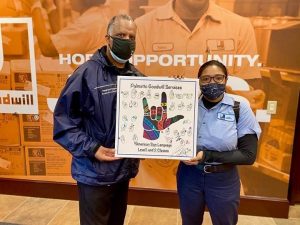 Hughes went on to create the ASL online program at Palmetto Goodwill including both level one and level two course offerings. This is offered not only to the SourceAmerica network and AbilityOne employees, but to the public. For the deaf community and their family, friends, employers, and peers, this was (and still is) monumental.
The courses take place one night a week from 6:30-8:30 p.m. to accommodate daily work schedules. At a cost of $300 for the 7-week course, learning a skill that will change lives has never been more affordable. The program is completely free for Goodwill employees. Even better, SourceAmerica has agreed to reimburse the full cost to any nonprofits that take part in the program.
(Pictured: Reginald Hughes and Kamelya Bailey with her original art designed for our ASL Courses)
Meet Jason Hurdich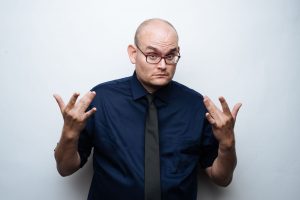 Receiver of the 2021 Palmetto Goodwill Champion Award, Jason Hurdich's personality lights up a room. Featured in the Greenville Journal, the Charlotte Observer, and more, he is the first (and currently singular) RID Certified Deaf Interpreter in South Carolina.
He began his career covering Hurricane Matthew news reports. Working in vocational rehabilitation, he helped people with disabilities find jobs and be competitive in the work field – a line of work near and dear to our hearts. At the office he worked at, he was the first ever deaf counselor, filling a gap that was so badly needed. Now at Clemson University as an ASL lecturer, he inspires countless others as he not only excels in teaching and using ASL but understands first-hand what it is like to be deaf and the call to action for more people understanding and using the language.
(Pictured: Jason Hurdich signing "What's up?" // Photo by: Will Crooks)
The Future is GOOD
Online ASL courses will visibly impact the deaf community, but its effects will reach far beyond that. As the third most common language in the U.S. and Canada, learning ASL will influence bosses and co-workers, teachers, friends, etc., and even nonverbal children and adults (with conditions such as Down syndrome, Autism, Cerebral palsy, trauma, and brain disorders or speech disorders).
It's as simple as me going to the grocery store, to a coffee shop, to a restaurant and somebody there knows a few signs," stated Hurdich. "It's such an amazing thing, and it can really make the person's experience a world of difference. I've seen people, as well as myself, go to a place and really feel inspired by that when somebody's there and can sign with us. And, you know, many deaf people wish that that experience was more readily available."

-Jason Hurdich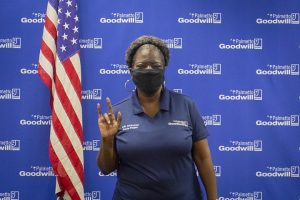 Especially regarding employment, ASL courses have the potential to be groundbreaking. Even just starting with bosses alone learning ASL, deaf individuals could be implemented into their jobs faster, and be in more advanced positions that they are already qualified for; they were just missing a puzzle piece of understanding from their employers.
At Palmetto Goodwill, we live and breathe our mission to help people reach their full potential through the dignity and power of work. Offering ASL courses at Palmetto Goodwill has come so far – and are not stopping anytime soon. What started as one idea could be the reason you signal even just "Hello" or "How are you?" to your neighbor, or the reason you can finally talk 1-on-1 with your co-worker. We hope to have reached all 50 states – and paint the world with change, one sign at a time.
(Pictured: Sonia Pagan (ASL Course Instructor))
Sign up for our upcoming ASL courses: