5 Festive Recipes Guaranteed to Leave you Feeling Full (of Holiday Cheer)
With Christmas less than 2 weeks away, everything tends to become a bit more hectic – including preparation for holiday gatherings. For those hosting or attending a holiday-themed event or potluck, it can be quite the challenge to conjure up a recipe that guests will enjoy. So, to kick-off our "12 Days of Thriftmas" blog series we've compiled a list of recipes sure to impress your co-workers, friends and family this holiday season. Don't worry if you aren't a master chef – each of these recipes ranges in difficulty from beginner to experienced so everyone is guaranteed to find a recipe they're able to prepare!
First on today's menu are Holiday Bacon Appetizers.
Difficulty: Easy
Prep Time: 20 minutes
It doesn't get much easier than this! With just 3 ingredients, this delicious yet simple snack is all but guaranteed to have partygoers wishing you made more than one serving. Even the most inexperienced of chefs should have no trouble with this dish.
If bacon isn't really your thing, consider bringing something a tad more festive like this Pizza Candy Cane Crescent.
Difficulty: Easy
Prep Time: 15 minutes
Other than the Grinch, it's hard to find someone who doesn't enjoy holiday cheer. Perhaps even more difficult is finding someone who doesn't enjoy pizza. So, it only makes sense to combine both in this easy and quick holiday-themed recipe.
For those with a tad more experience in the kitchen (and a little bit of patience), this Cheese and Crackers Christmas Tree is another festive dish that's sure to impress guests.
Difficulty: Intermediate
Prep Time: 30 minutes
Although the preparation isn't too difficult, this recipe does require more ingredients than our previous two. However, if prepared correctly this dish is likely to become a fan-favorite. Careful though, if it becomes too popular you may be expected to prepare this every year!
For anyone seeking a delicious main course, try this Roasted Fresh Ham with Cider Glaze.
Difficulty: Experienced
Prep time: 40 minutes
Like turkey on Thanksgiving, ham on Christmas is a holiday food tradition. Unlike our other recipes, this dish will require quite a bit of cook time so be sure to plan well in advance.
Lastly, what gathering would be complete without a dessert? To continue the holiday spirit, consider this Five-Minute Fudge Wreath.
Difficulty: Easy
Prep time: 5 minutes
This recipe seems almost too good to be true!  With just 5 minutes of prep + 5 minutes of cook time, this dish could be prepared right before you walk out the door on your way to visiting friends and family.
As you prepare each of these delicious holiday meals, don't forget to stop by your local Goodwill to find kitchenware, cookware, glassware and other hidden holiday treasures! Recently, upon taking a stroll through our Rivers Avenue location, we found a few great items at spectacular prices!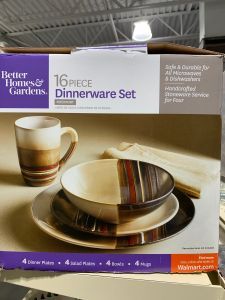 In need of dinnerware to serve these amazing holiday treats? This Better Homes & Gardens 16-piece dinnerware set was priced at only $15.99!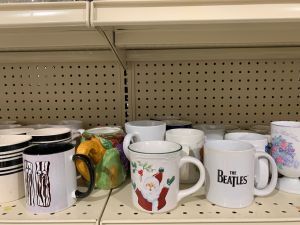 Perhaps you're an avid coffee drinker or know someone who can't begin their morning without a cup of caffeine. In that case, our Rivers Avenue location also had great mugs priced at just $1.99 per piece! Even better, some of the mugs were holiday themed and would make for great gifts.
So, as we near holiday gatherings we wish you the best of luck in your preparation! Shout us out on social media if you prepare any of the above recipes or discover great kitchenware at your local Goodwill!