Zero Waste. Infinite Good.
In 2020, we kept 1,041,003 pounds of electronic waste from ending up in landfills. While we are proud of that, we are much more than just a statistic. You might be thinking, what does this mean for our community? What does this mean for the earth?
Infinite Good

With technology always advancing, that can mean more old computers in landfills. Through a partnership with Dell called Dell Reconnect, Goodwill can protect the environment, provide job training and experience through our mission, and collect reused materials for Dell, making them more sustainable as a result. The program accepts any brand of computers (and other electronics) in any condition, making reducing, reusing, and reconnecting the equipment a no-brainer.
Making an Impact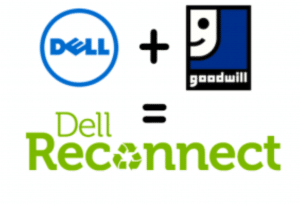 According to the Dell Reconnect Messaging Guide, "Donating one working computer through Dell Reconnect equates to 6.8 hours of job training for a Goodwill program participant."
What may look like computers in boxes to one, looks like a world of opportunity for another. Computers turn into one-way tickets; the kind that make the girl that believed she could receive her diploma earn that valuable piece of paper, the man with a love for welding able to chase his artistic passion and give numerous individuals certifications that will change their lives forever.
To us, there is beauty in sustainability, and every donation can and will change lives. We are committed to making an impact in our neck of the woods, as well as worldwide. Now, we challenge you to join us in striving towards zero waste by thinking outside of the box and doing a little good for our beautiful earth each day.
Comment below how you plan to do #InfiniteGood and follow along on our blog and social media to see us change the world, one donation at a time.
---
Find a Goodwill & Dell Reconnect location here.