Watermelon Cucumber Summer Salad
In my search at Palmetto Goodwill, I stumbled upon a breathtaking glass bowl priced at a mere $1.99. It was an instant revelation—I envisioned it as the ideal vessel for crafting a delectable summer salad. Enter the revitalizing Cucumber Watermelon Summer Salad, a culinary creation that effortlessly tantalizes the taste buds. Its effortless preparation and the harmonious marriage of savory and sweet flavors make it an impeccable accompaniment to any grilled protein of your choosing.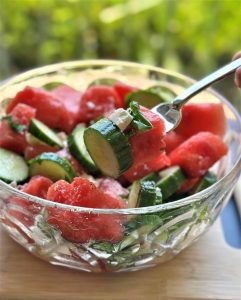 Why We Love It!

A Burst of Freshness and Crispness – When the scorching summer arrives, my taste buds yearn for a chilly, invigorating, crunchy salad. This remarkable creation satisfies those cravings flawlessly, offering not only a refreshing experience but also a hydrating one, courtesy of the cucumber and watermelon's high water content.
A Symphony of Sweetness and Saltiness – If you're a fan of delightful sweet and salty fusions, prepare to be enamored by this salad! The combination of watermelon and feta is a match made in culinary heaven, and once you take a bite, you'll find yourself utterly captivated.
The Quintessential Companion for Barbecues and Picnics – Whether you're attending a lively barbecue, organizing a picturesque picnic, or gathering with friends for a summer soiree, this salad is your go-to option. Its robust nature ensures it holds up magnificently, and let's be honest—who can resist a refreshing watermelon side dish on a scorching day?
Effortless Elegance in Every Bite – No need for elaborate cooking techniques, intricate baking processes, or lengthy marinating times when it comes to this salad. Simply chop the watermelon, cucumber, feta, and herbs, and generously squeeze some lime juice over the medley. Voila! An exquisite creation is ready to be savored.
Watermelon Salad with Cucumber and Feta
Ingredients
1 mini watermelon (approximately 4 cups), rind removed and cubed
2 Persian cucumbers (approximately 1 cup), sliced
3 ounces feta cheese, cut into cubes
1 tablespoon chopped mint
1 tablespoon chopped basil
1 lime, juiced
Kosher salt and fresh ground black pepper to taste
Olive oil to taste
1 table spoon Apple Cider Vinegar
How to make watermelon salad with cucumber and feta
Cut the watermelon – The most time consuming part of making this salad if you had to pick something is cutting the watermelon into cubes.
Chop remaining ingredients – Slice the cucumber, cut the feta into cubes, chop the mint and basil and add them to a serving bowl with the cubes of watermelon.
For a delightful vinaigrette, my preferred method involves combining salt, pepper, lime juice, and apple cider vinegar. However, an alternative approach is to squeeze lime juice, drizzle a bit of olive oil and apple cider vinegar over the salad, and then season it with salt and pepper. Toss all the ingredients together, and voila! That's all there is to it—your delicious salad is ready to be enjoyed.
Check out our Instagram Reel for this recipe here.