Breaking Barriers and Thriving: Jasmine's Inspiring Journey as a Deaf Individual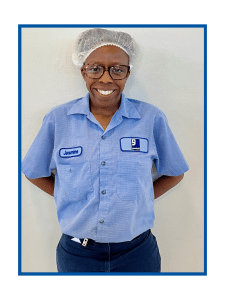 National Disability Employment Awareness Month is a time to celebrate the countless achievements and unique journeys of individuals who face diverse challenges with unwavering determination. In this spirit, we welcome you to dive into Jasmine's story, a remarkable testament to the power of inclusivity, self-belief, and the limitless potential each person possesses, regardless of the obstacles in their path.
"My name is Jasmine, I am 32 years old and was born Charleston, SC. I don't remember how old I was when I became hearing impaired, only knowing that I would still have a rewarding life. Working for Palmetto Goodwill at the Naval Weapons Station Galley has allowed me to become more self-sufficient. It has enhanced my work ethic and job skills, and has been encouraging to me and my family.
Since coming to work at Palmetto Goodwill over 10 years ago, my coworkers, supervisors, and team members have treated me like family. For that, I am grateful to be a part of such a supportive team!"
Jasmine's experience beautifully illustrates the inclusive and supportive environment that organizations like Palmetto Goodwill foster, making NDEAM an opportunity to celebrate the diverse strengths and abilities of all individuals.