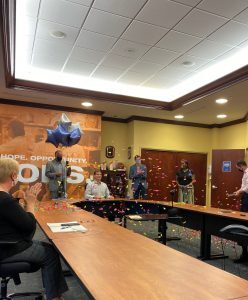 PALMETTO GOODWILL CEO HONORED WITH INTERNATIONAL MANAGEMENT AWARD
North Charleston, SC – Palmetto Goodwill President & CEO Robert Smith has been honored with the 2020 Kenneth K. King Outstanding Management Award for Executive Excellence, the most prestigious leadership award presented by Goodwill Industries International (GII).
Smith has worked at Goodwill for the past 38 years. He started his career as a truck driver picking up donations. He has since worked in numerous positions within Goodwill, gaining a wholistic perspective of operations, before becoming CEO in 1998.
"Now leading the organization that I joined decades earlier, I find my greatest impact is employee empowerment," said Smith. "Through knowledge sharing and mentorship, we can extend our reach benefitting more people in our lower South Carolina communities needing meaningful employment opportunities."
Under Smith's purview, Palmetto Goodwill has grown from serving approximately 400 people a year to a thriving service provider that now serves more than 20,000 people annually. With 31 retail stores in 18 counties and 14 contracts in all four branches of the military, Palmetto Goodwill is truly serving its community.
"Behind every great organization is a great leader, and Palmetto Goodwill is lucky to have the most passionate champion at its helm," said Lee Deas, Palmetto Goodwill board chair. "No one works harder than Bob to ensure others become successful, contributing members of our community."
The Kenneth K. King Award for Management Excellence is presented to a Goodwill Industries® executive in recognition of outstanding management abilities and accomplishments. The award recognizes a CEO whose performance consistently demonstrates strong organizational impact related to mission, excellence and sustainability. It is named for the late Kenneth K. King, who endowed the Kenneth K. King Management Award for Executive Excellence Trust. The award is the highest honor a Goodwill president and CEO can receive.
The award was presented virtually November 11 during GII's annual Delegate Assembly.
In 2019, Smith was honored with GII's Diversity and Inclusion Award.
About Palmetto Goodwill
Palmetto Goodwill is a non-profit social enterprise whose mission is to help people achieve their full potential through the dignity and power of work. In operation since 1979, Palmetto Goodwill operates 31 thrift stores/donation centers, 12 Career Opportunity Centers and 14 commercial contracts to support its mission throughout its 18-county territory. To learn more visit palmettogoodwill.org.