Halloween Couples Costumes
Halloween costumes are always more fun when you can celebrate with the one you love! So our focus this week is going to be "couples costumes" that can be found quickly and easily at your local Goodwill!  Our inspiration for these costumes are going to be Jim and Pam from "The Office," Chip and Dale from "Rescue Rangers," and Wanda and Cosmo from "The Fairly Odd Parents."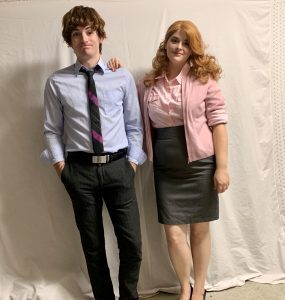 It isn't too hard to find easily recognizable outfits for Jim and Pam.  Pam usually wears a dress shirt, a cardigan, and a solid colored pencil skirt.  Most often, I've seen her in pink, so I went with a pink dress shirt, a pink cardigan, a grey pencil skirt, and a pair of black high heels. Jim wears a solid dress shirt, a simple tie, and a pair of dress pants.  I found a blue dress shirt, a simple striped tie, a pair of grey pants, and a pair of dress shoes. Put it all together and you have your iconic duo worthy of the water-cooler!
Another dynamic duo we can find in our local Goodwill is Chip and Dale from the Rescue Rangers! Chip wears a brown fedora and a brown bomber jacket. Because he is a chipmunk, I chose to draw from Indiana Jones (whom his costume is based on) for more inspiration, adding a khaki colored shirt and brown pants to complete the costume.  Dale simply wears a red Hawaiian shirt, so again I drew from the character on which his costume is based, Magnum PI, and added white polyester pants to complete the costume.  Altogether, you have your two gumshoes to take the clues and find the where's and why's and who's!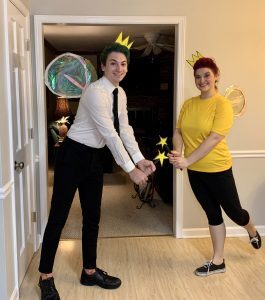 Our final couple is Wanda and Cosmo from the Nickelodeon classic, the Fairly Odd Parents! The costumes themselves are pretty simple, but will require a bit of work to create the props that add detail to the costumes.  Wanda wears a yellow shirt, black pants, and a pair of black shoes.  Cosmo wears a white dress shirt, a black tie, black dress pants, and a pair of black shoes.  I began by finding the clothing pieces at Goodwill.  Next I drew out the wings, wands and crown on cardboard.  I cut the pieces out with an exacto knife.  For the wings, I sprayed glue and covered them in cellophane on both sides, cutting a larger shape than the wings. Then, I ironed around the wings. This heats/shrinks the cellophane and helps the glue to adhere the two sides more easily. Lastly, I folded the wings into an upward shape and hot glued two pieces of ribbon in the creases to tie the wings on.  I painted the crowns and wands with yellow and black paint. To finish the costumes, I hot glued each crown to a headband and sprayed our hair with green and pink hair spray!  It may have taken a bit more effort, but these wild and wacky costumes were definitely my favorite ones of the week!
Costumes are always more fun in pairs!   Whether you are sharing the season with your significant other or your best friend, it wasn't too difficult to find some great couples costumes while strolling the aisles of Goodwill.  I hope you enjoyed these iconic, fun, and wacky costumes you can make this Halloween season!