JOIN US AT OUR NEXT MEETING WEDNESDAY, OCTOBER 24!
Our Business Advisory Council (BAC) provides advice & counsel to Palmetto Goodwill's Workforce Development staff, serves as mentors and role models for program participants, educates others on Palmetto Goodwill's mission and services, and serves as part of a network for the successful employment of program graduates.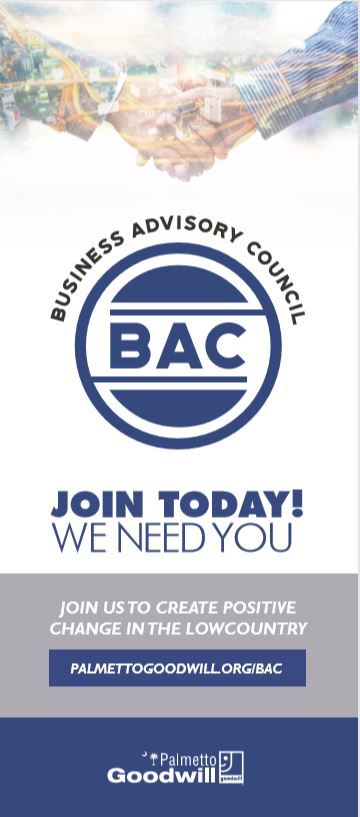 Goals and Objectives for BAC Members

~Provide information on emerging labor market trends in your field.

~Help identify and develop workforce development initiatives.

~Assist Palmetto Goodwill staff with development and maintenance of job training curriculum.

~Support, promote and participate in Palmetto Goodwill events benefiting mission services throughout the year.

~Identify prospective members to help grow the Business Advisory Council.

Benefits of Becoming a BAC Member

~Opportunity to positively impact those looking to become more self-sufficient.

~Help local veterans & their families transition to civilian life.

~Network with community business leaders & professionals.

~Priority use of Palmetto Goodwill facilities for business and/or social meetings.

~Spotlight your business by hosting a Council meeting at your place of employment.

~Access to skilled, trained workers eager to change their lives.

~VIP status at Palmetto Goodwill events.
Business Advisory Council Members